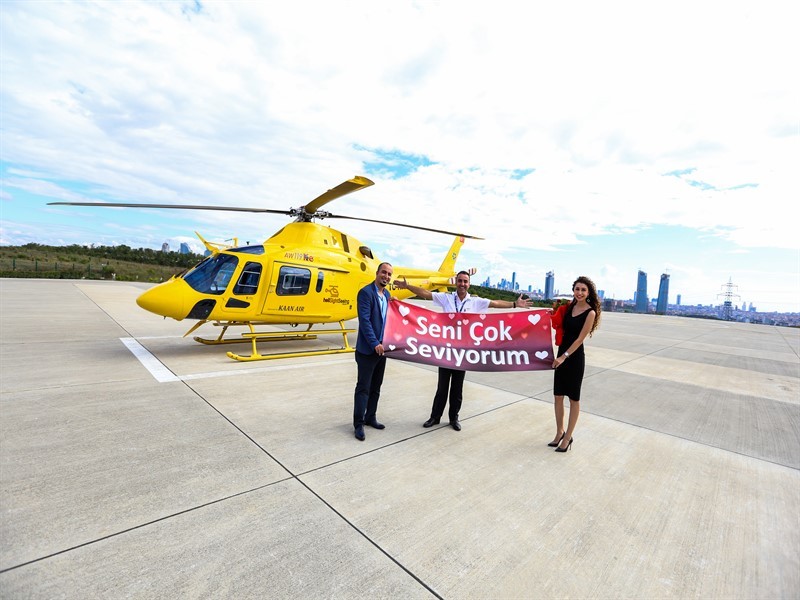 Tips on Marriage Proposal in a Helicopter
Tips on marriage proposal in a helicopter!
Proposing marriage in a helicopter is really a great romantic method. Think about it; your feet are off the ground, a beautiful Istanbul view flowing under your feet, you and your loved one alone together... It's a good idea to make a final check before we implement this amazing idea!
Make sure your love doesn't have acrophobia and its resulting panic attacks!
Before you clarify your decision to propose a helicopter, it's a very important thing to make sure that your prospective wife has no problem with flying. No one wants a carefully prepared surprise marriage proposal to be spoiled by a headache, a panic attack, and even vomiting! Therefore, before you make plans, you can find out in your daily conversations whether she has any such problems as fear of flight or flight sickness without attracting her attention. In this regard, getting help from her friends can also make your task easier.
It's really a great way to propose in a helicopter. But remember; both sides should enjoy this beautiful organization!
When should the ring be presented when proposing marriage in a helicopter?
You won't be in a position to kneel because your seat belt will be fastened when the helicopter takes off. So you can prefer making your proposal right after you get on the helicopter and taking off afterwards with your future spouse. But don't forget to make sure that you have enough time for the proposal by talking to the pilot beforehand. If you are dreaming of immortalizing your love for her in the sky, you can perform the ritual of kneeling after you get off the helicopter while you are giving flowers to her. Just plan all the stages in advance!
You can increase the dose of romance a little more by proposing to marry as you fly over a place that is important to you. For this, you can talk to the pilot beforehand to send you a special sign. For example, you can make this special moment much more meaningful by proposing to marry while passing over the neighborhood you first met, over the Bosphorus Bridge, or over a location that has a special meaning to you.
You should have a backup plan B!
If you plan to propose marriage on a special day, such as a birthday, a dating anniversary, you should also make a plan B to guarantee yourself apart from the option of proposing in the helicopter. Because at the last moment the weather can change, it may become windy, the helicopter may not take off! Considering ahead of time the risk of your romantic marriage proposal being postponed to another date due to the circumstances that develop outside you will save you from disappointment.
Don't drop the Fring!
No matter how beautiful the weather is, a little jolt may occur when the helicopter takes off. Although all sides of the helicopter are closed, you still keep the ring in a safe place. If it falls out of your hands, finding it inside the helicopter can be very hard for you. You can attach ribbon to the ring to make yourself more secure at the time you wear the ring Now that you've learned these precautions,
it's time to choose a marriage proposal package in the helicopter.
We have great plans for you here...
Share: